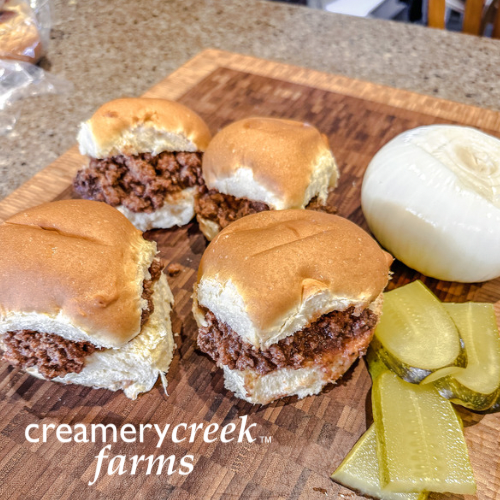 Hey there, I'm excited to share with you my family's favorite sloppy joe recipe. As a family-owned farm, we take our food seriously and believe in using high-quality ingredients that are good for you and the environment. That's why we source our beef from our own cows, ensuring that they live natural and healthy lives before making it to your kitchen table.
Now, let's talk sloppy joes! If you didn't grow up on these loose meat sandwiches, you may not have grown up in the Midwest.  Sloppy Joe's is a hearty sandwich filled with ground beef, tomato sauce, and a blend of spices - perfect for feeding a hungry crowd. Our version takes the classic recipe and elevates it with some extra special ingredients.
Here's what you'll need for our mouth-watering sloppy joes:
Ingredients:
1 can tomato sauce
1/4 cup brown sugar
1/4 cup ketchup
1 tbsp Worcestershire sauce
1 tsp mustard powder
1 tsp garlic powder
salt and pepper to taste
brioche buns
pickles, for serving (optional, but not optional if you're the smallest farmer at Creamery Creek)
Directions:
In a large skillet, cook the beef over medium heat until browned and cooked through.
Drain any excess grease from the pan.
Add in the tomato sauce, brown sugar, ketchup, Worcestershire sauce, mustard powder, garlic powder, salt, and pepper.
Stir everything together and let it simmer for 10-15 minutes until the sauce has thickened.
Toast your brioche buns and fill them with the sloppy joe mixture.
Serve with pickles on top (if desired)
This recipe is a hit in our house and is perfect for large gatherings or a cozy family dinner. Plus, it's incredibly easy to make - all you need is a skillet and some basic pantry staples.
So next time you're looking for a filling and flavorful meal that the whole family will love, give our sloppy joe recipe a try. And don't forget to share your experiences with us in the comments below. We can't wait to hear from you!
xoxo, Louisa